Why visit Phi Phi island?
---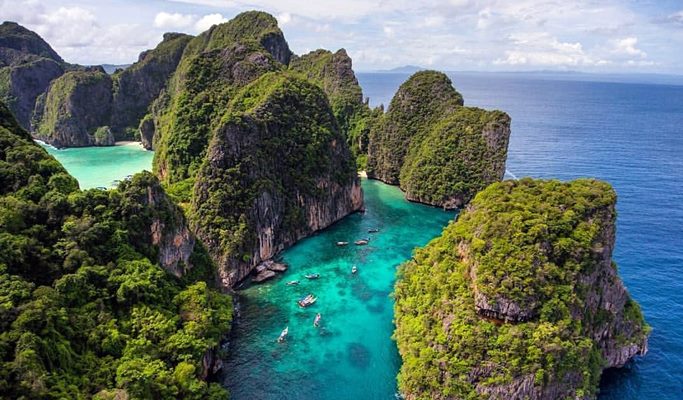 ---
Phi Phi island is a magical looking tropical gropu of islands. The Phi Phi Islands are an island group in Thailand, between the large island of Phuket and the Straits of Malacca coast of Thailand. The Phi Phi islands are some of the loveliest in Southeast Asia. Just a 45-minute speedboat trip or a 90-minute ferryboat ride from either Phuket or Krabi, these picture postcard islands offer the ultimate tropical getaway. Featuring classic tropical beaches, stunning rock formations and vivid turquoise waters teeming with colourful marine life, it is paradise perfected.
There are 2 very hot periods of weather on Phi Phi Island, the first between April and May when the average temperatures range from 30 to 36ºC and only the occasional tropical thunderstorm brings relief from the heat. It is also very hot between September and October but the frequent rainfall has a wonderful cooling effect. Tourist High Season is from November to April. However, it's best to avoid December and January if possible, as this is Peak Season, when accommodation can be hard to find and is expensive, particularly around Christmas and New Year, and Phi Phi's dive sites are very crowded. Whether you are coming to Thailand for diving or not, we recommend you try to come from February to April. There are less tourists here, accommodation is much better value-for-money, the weather is at its best, and the seas their calmest. The dive sites around Koh Phi Phi, Hin Daeng and Koh Ha are less crowded, and it's your optimum time to see something special, as it's whale shark and manta ray season.
For around 3000 Bhat travellers can purchase a 6-hour long-tailed boat tour, an excursion designed to take parties of four around the entirety of the blissful island. Tours make stops at Bamboo Island, Mosquito Island, Monkey Bay, Maya Bay and Tonsai Village for a few hours of shopping and swimming, and first-rate snorkelling gear is often provided. Set sail at sunset if you can, as a view of the orange sun hitting the water, viewed from a long-tailed boat, is spectacular. Extra details on Phi Phi islands tour.
Ton Sai is a beach near Krabi in Thailand, offering a combination of inexpensive accommodation and great rock climbing routes that make it popular with both backpackers and climbers alike. Compared to neighbouring Raileh and Ao Nang it's relatively rough around on the edges; in particular, the beach gets unsuitable for swimming and becomes quite rocky as the tide goes out. But this only happens for about ten days every moon period. The rest of the time the beach is suitable for swimming although not overly sanitary, take care and use antiseptic on all cuts.
One of the best things about traveling in Thailand is its food. Good old pad thai, glorious tom yum and massaman curries. I could go on and on (trust me, I could) but the bottom line is, attending a cooking class is one of the best souvenirs you can take home with you after visiting Thailand. Koh Phi Phi has a few cooking classes which are worth trying so definitely give it a go when on the island. Not only will it add variety to your usual sightseeing filled day but will also be a great cultural experience.
Most resorts and hotels offer plenty of packages with snorkeling activities included (we went snorkeling through Zeavola Resort where we were staying), but you can also book a tour in advance to explore the underwater wonders of Phi Phi. For a special experience, check out the Reef Shark Snorkeling Eco Tour where if you are lucky you'll be able to spot Blacktip Reef Sharks. It's totally safe! If you're planning to do a lot of snorkeling while in Thailand (why wouldn't you?), consider getting your own basic snorkeling kit before your departure. It's more hygienic and basic sets are affordable.