5 top attractions in Cancun and best airline tickets
September 16, 2020
0 Comments
---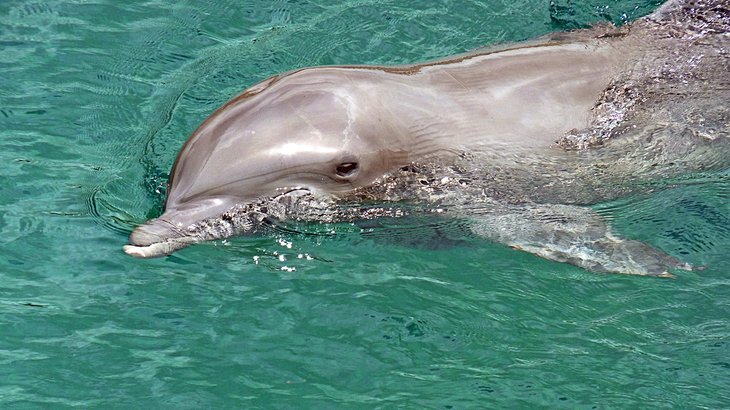 ---
Top places to see in Cancun and cheap flights? A must-do while in Cancún is to take a trip up the Scenic Tower (Torre Escenica). Something of a landmark in the hotel district due its height-it's 110 meters tall-as well as its pencil thin base, the tower is a fun diversion for those wanting a bird's-eye view of the city, as well as its many beaches and the surrounding coastline. While a set of steep steps can be climbed, by far the best way to reach the top is to simply take a seat in the large round elevator that gradually, as it rises and rotates, becomes an observation deck. It's a particularly attractive structure at night when it's lit up to resemble a Mayan representation of a flower. The tower is in fact part of Xcaret, an interesting mix of theme park and natural attractions (entry to the tower is included with Xcaret admission). Given its 50 or so cultural and natural attractions, you can expect to easily spend a day here exploring the many things to do. Highlights include water-based activities including a beach and lagoon, plus the chance to explore underground rivers, a coral reef aquarium, a folk museum and performances of music and dance, an equestrian show, boat tours, and plenty of dining options. Also fun is Ventura Park Cancun, with activities including a zipline, water park, and a dolphin encounter.
Isla Mujeres has tons of little shops and stalls to explore, during your stay on the island. From local art to cold drinks, to traditional clothing, there is something for everyone. While you can definitely find something worthy of bringing back to your friends and family, beware of inflated prices, presented to foreigners. Pushy vendors can sometimes charge more than triple the price of souvenirs to tourists, however, you can usually bargain for a better deal. If you have never bargained before, give it a try! You never know what kind of treasures you might leave with. Garaffon Park is a great place to visit if you are traveling with children. This adventure park offers a variety of activities for you and your family to enjoy, all day long, such as zip lining, kayaking, swimming with dolphins, and bike riding. The cheapest packages start at 89 USD per person, which includes your ferry ticket, breakfast, lunch, and basic access to snorkeling and zip lining activities. If you're feeling more adventurous, the most expensive package is 209 USD, including VIP access to breakfast and lunch, access to activities, and admission to Punta Sur, which you will read about later on.
MUSA (Underwater Museum of Art in Isla Mujeres): One of the most popular activities in Isla Mujeres is to visit MUSA, (Museo Subacuatico de Arte). You can tour the underwater museum by glass bottom boat to enjoy over 500 sculptures by the creator Jason deCaires Taylor. For a better experience, and to get closer to the sculptures, head on a snorkelling tour or go scuba diving. MUSA was created to encourage visitors to visit an alternative area around Isla Mujeres taking the pressure off the nearby reef. Underwater sculpture parks are created as tourist attractions, but they are also used as artificial reefs to help promote the growth of coral and the return of more marine life. A visit to underwater sculptures (by the same artist) is also one of the top things to do in Grenada, and the Bahamas.
Flights to Cancún land only on one airport, which serves international as well as domestic arrivals and departures – the Cancún International Airport (CUN). A total of 57 airlines fly in and out of Cancún, including all major airlines such as British Airways, JetBlue, Delta, Air Europa, Air France, American Airlines, Delta, Spirit Airlines, and United Airlines. Some of these airlines offer really cheap flights to Cancún. After Mexico City's Mexico International airport, the Cancún International Airport is the second busiest airport in the entire country, mainly because it attracts a large number of tourists every year. 2019 saw the airport handle departure and arrival of 25,481,989 passengers – that's right – a whopping 25 million+ passengers, in just one year. See more information at cheap flights to cancun.
El Meco is a set of ancient Maya ruins that aren't well known about, located North of Downtown Cancun. There's even a 41 foot high pyramid! These ruins were probably related to Isla Mujeres and an important port for the Maya in the Yucatan Peninsula. To find them, head up Avenida Lopez Portillo (aka the Cancun-Puerto Juarez road) in a rental car, taxi, or collectivo bus. The site is located at KM 27. The ruins are just off the road on the left. High season for Cancun is during the winter from January to March, when all the snowbirds from Canada and the United States come down to escape the cold. This is when you'll find the best weather and the least amount of rain. But it's also the most expensive and most crowded season. March is typically when Spring Break madness happens.
Conceived by Jason deCaires Taylor, Isla Mujeres is home to the largest underwater museum on earth. The clear waters off Isla Mujeres make a great place to scuba dive or snorkel while seeing how thousands of underwater sculptures change in time in regards to coral growth and marine interaction. The scope of the project is mind blowing and the combination of art and marine conservation is great to see.
A Tezmacal ritual is a traditional Mayan ceremony of purification which takes place in a tiny hut. You strip down to your underwear (or swimsuit), then enter the sweat lodge which is heated with hot rocks & water, turning it into a steamy sauna. The ceremony is led by a local shaman, who conducts the ritual and takes care of participants. The tezmacal ceremony takes place in complete darkness, as the shaman pours water over the hot rocks, chanting and using different herbs to summon spirits. Temazcal was performed since ancient times, is seen as a purification ceremony that cleans the body, mind, and soul. As your body is sweating in the tiny hut, you enter a deep state of meditation, enhanced by the shamanic chanting. Discover extra information at https://vacayoffers.com/.